A short, intense, and somewhat random travel itinerary in Sydney, and two spectacular day treks in the Blue Mountains.
I was in Sydney for three or four days in total and I spent two of them to visit Bondi beach and Manly beach. In Bondi there's a very nice, relatively short walk (a couple of hours) along the coast, the Coogee coastal trail; the highlight of Manly is really the ferry crossing to get there from the harbour, especially coming back when you can enjoy the famous Sydney skyline at sunset, with the Opera House and the Harbour Bridge. Here there's a map with the whole Australian itinerary.

It's always kind of weird to see in person what I have seen so many times in films, video clips, and photos. I had the same feeling in New York, like in Times Square or Central Park, perhaps even more in the Big Apple. It's like having been there already, only that you haven't, and at the same time you wanted to, but now that you are there you don't know what to do. I can't really tell if I like this or not: it does give some kind of twisted satisfaction to say I was there, at the Sydney Harbour, where Nemo went to look for his lost father. I even took a selfie and put it on Facebook. Sbam! Probably I am more the type to feel at ease in remote and less touristic places rather than cities, but then, it always depends on how we spend our time.

So, Sydney! As for every big city the cultural agenda is lively. It's worth visiting the Opera House of course, if anything for its splendid architecture. There are guided tours only for this. Even better though would be to see a show, opera or concert, or a theatre play, depending on what's on and the budget available. I was lucky to see La Bohème just before going back home, a kind of goodbye treat to myself.
The MCA, museum of contemporary art also makes for a couple of well spent hours, it isn't very big, which in my opinion allows for more focus when looking at the exposition. I particularly liked the collections of Contemporary Indigenous art, merging somehow Western abstract styles with indigenous drawing, lines and traits, and spiritual conceptions.

One night I was walking around the area close to the central station, and I see something's going on at the top floor of a big mall. So I go and check, and it turns out to be the opening of a paste-up exhibition called Pastemodernism.
 Nice stuff, with the artists there and a bar and a very nice crowd. The set up was also convincing. I was just taken aback about the site selection. In Europe, this type of street-art movements would exhibit in very different places, if they get to it at all: more post-industrial sites perhaps, or underground, or even in galleries.
It's just that galleries are not normally at the top floor of a mall full of shops and restaurants. Especially for a type of art that at its core tries to provide an alternative, critical view of popular and pop culture, especially on advertisement and consumerism, to exhibit at a mall, supreme symbol of that culture, is a little weird to me. But then again, perhaps it was done on purpose, for contrast (mmmm…), or this art doesn't aim at such a strong socio-political statement as I thought…who knows.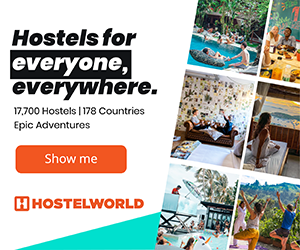 As a final point, I had quite some fun walking around markets, particularly at the harbour where tasty sea food can be found. Chinatown has also food courts with all kind of Asian food, and markets for cheap souvenirs. something I really liked about Australia in general is the presence of so many, and better integrated, people from Asia, or with Asian origins. It is geographical of course, but I found it adds something spicy to the society as a whole. Again, a difference compared to European countries.

BLUE MOUNTAINS
Two hours by train West from Sydney, it's possible to reach the World Heritage-listed Blue Mountains national park. A vast and wild area which owns its name to an optical effect of the light, which causes the misty atmosphere floating above the trees to look blue, especially if observed from the distance. My headquarter for two days here was Katoomba, which is the main town in the area, but still a very small one, with a couple of friendly backpackers' hostels. Here the whole story was different: much less people, and the possibility to spend some time in the nature.
From Katoomba the famous Three Sisters rock formation is easy to reach by foot, around sunset is the best time to have a look at it. However, the nicest part for me was to go hiking in the forest. I asked at the hostel which one was the longest day walk on the map from there, and the next morning I set off for an unknown destination, some kind of rock formation in the middle of the forest called The Castle, which I am not sure I actually reached. I think so, not like there were signs or anything… For about six hours I was completely alone in the thick forest, following a thin trail, amazing! A big lizard suddenly appearing after a turn, sun bathing in the middle of the trail, made me jump on my feet with excitement: my first Australian animal. Also, along with some while parrots, it has been the only animal I spotted in the Blue Mountains, although I read there's much more.  
The following day I went for another trail from Leura, a nearby town, with some people I met at the hostel. Wonderful how much easier it is for solo travellers to make friends in small places rather than big cities. The trail was fun, with lots of ups and downs and many waterfalls, a little more beaten than the other one, meaning we met few people here and there. It would have been nice to go camping, but my tight schedule didn't allow for it.
The Blue Mountains are also known for all kind of outdoor activities like rock climbing, abseiling or canyoning. Supposedly, they are very good, and I love that kind of fun, but of course you can go only with guided tours. I opted for just hiking here, also because I knew it was one of the few places in my Australian itinerary where I didn't need to pay for a tour.
Viva the transparency! There are affiliate links in this article. This means if you click on a link and end up buying (or booking) through those websites, I'll get a small commission, at no extra cost to you. This helps me maintain the blog, and continue to provide (hopefully) useful travel information. I advertise only products I have tested and sites I use myself!